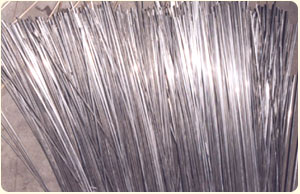 PRODUCT NAME :
70/30 CUPRO NICKEL.
SIZE RANGE
OD 3mm to 1", 0.5 MM Min.
STAIGTH LENGTH
TRADE NAME
Svmccuni – 30
APPLICATION
High capacity power plants, Ship building & Ship repairs, heat exchangers and condensers, Distiller tubes, Evaporator, Ferrules,
CHARACTERISTICS

A Copper nickel Alloy having small amount of iron and manganese to improve corrosion resistance in high velocity (from 1 to about 4 mtrs/sec.) waters, including sea water. The alloy is relatively insensitive to stress corrosion. It had good cold and hot working properties and is readily weldable.
70/30 CUPRO NICKEL

|

90/10 CUPRONICKEL TUBES

|

SVMC Copper –Nickel 90 :10 Automotive Vehicle Break Tubing

|

Composition Of CUPRO NICKEL